Fertiliser Prices 
Fertiliser prices in Ireland are continuing to decline across the country, but the average cost of fertiliser is still trading 65% above January 2021 levels.
While fertiliser prices have fallen by 37% from their peak in April 2022, there still remains a significant gap.
This is based on our analysis of the latest fertiliser figures released by the Central Statistics Office (CSO).
The CSO monitor tracks prices paid by farmers for purchases of goods and services.
Fertiliser Prices: Jan-21 vs Jul-23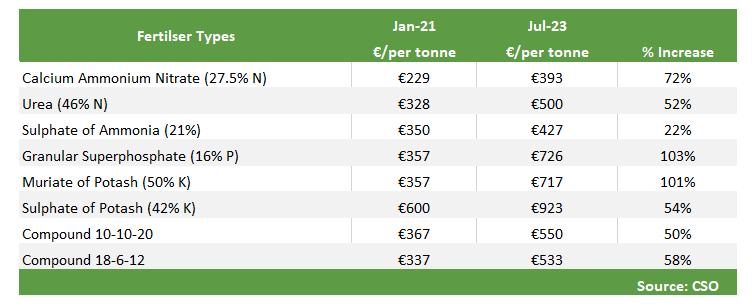 For Calcium Ammonium Nitrate (CAN), the average price per tonne is €393/t, with a variation of €164/t.
Protected urea is trading at an average of €500/t, a difference of €172/t.
Looking at compound fertilisers, 10-10-20 is trading at an average price of €550/t, while the 18-6-12 price average is €533/t, with variations of €183/t and €196/t, respectively.
Latest Fertiliser Prices for July  2023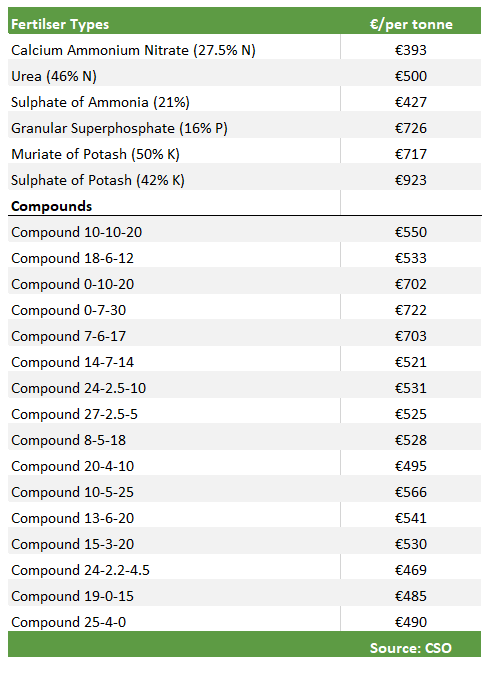 Based on our conversations with agri-merchants, many believe that fertiliser prices have bottomed out. However, this remains to be seen, and we advise farmers for farmers buying fertiliser to try shop around and only buy supplies as they are needed.
See some of our latest cattle listings here, across conventional, organic, and pedigree cattle. You can post your free cattle listing today on our platform with no hidden fees or charges.